Boys Program FAQ
WHAT IS THE TRYOUT COST?
$20 REGISTER HERE
ALL ATHLETES WILL NEED A USAV MEMBERSHIP FOR TRYOUTS. WILL NEED PROOF IN ORDER TO PARTICIPATE. 
USAV MEMBERSHIP LINK
WHAT AGE GROUPS WILL YOU HAVE?
We will field teams at all ages between 14U and 18U.


WHAT ARE THE AGE GROUP RANGES? (2019-2020 SEASON)
Once a player participates (including but not limited to practicing, training, attending workouts and/or competing) in a club or varsity program for any university, college, community college, or junior college, he/she is ineligible to take part in any regional and national programming, which includes but is not limited to national NJC qualifying and championship events.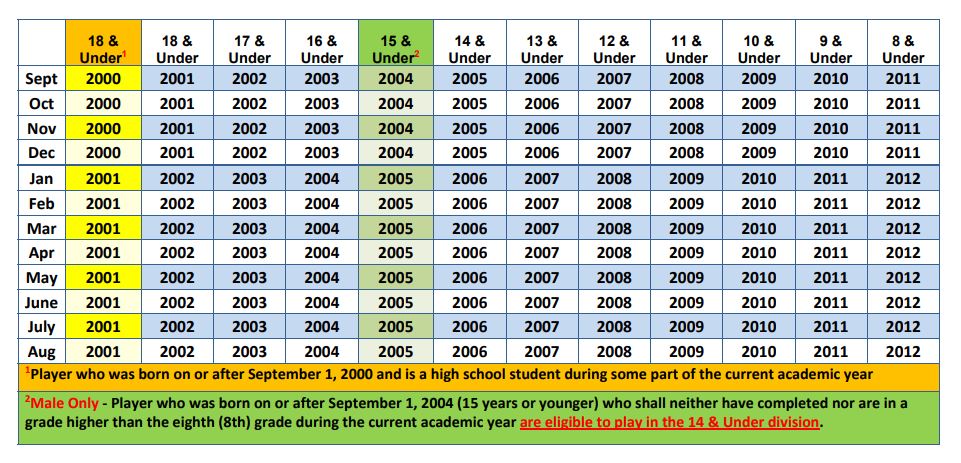 WHEN ARE PRACTICES?
Practice will be held at Maryville Academy. Mondays & Wednesdays from 7:30-9:30 PM.
WHAT IS THE SEASON COST?
$1800.00 for 14U - not including summer Nationals costs
$2100.00 for 16U-18U - not including summer Nationals costs
All athletes will have a $500 commitment deposit followed by 3 payments due the first Friday of the month.
PAYMENT SCHEDULE
| | | | | |
| --- | --- | --- | --- | --- |
| | Due 48 Hrs After Tryouts | Due 10/4 | Due 11/8 | Due 12/6 |
| 14U | $500 | $500 | $500 | $300 |
| 16 & 18U | $500 | $600 | $500 | $500 |
WHAT DOES THE SEASON COST INCLUDE?
The season cost includes uniforms (2 jerseys, socks, shorts, backpack, and warm up top and bottom), bag, 3 practice shirts, practice and coach expenses, and a  travel qualifier (tournament & athlete hotel). If the team qualifies for nationals, that will be an additional fee.
HOW MANY TOURNAMENTS PER MONTH WILL YOU PLAY?
Each team is planning to have at least two tournaments per month during the season.
WHAT QUALIFIERS WILL YOU PARTICIPATE IN?
We will participate in the McCormick Place Qualifier & the Dan Lafata Qualifier in St. Louis. We may participate in additional out-of-state qualifiers.